Indie Horror Book Award for Best Debut Collection:
Something Borrowed, Something Blood-Soaked
Best-Of Anthologies: Year's Best Hardcore Horror, Volume 2
Read more via Comet Press, or at Corner Bar Magazine, where "The Girl Who Loved Bruce Campbell" was originally published, or listen at Horror Hill, Chilling Tales for Dark Nights / The Simply Scary Podcast Network
The Haberdasher's Monster Mash Slash Fiction 4th Annual Halloween Writing Contest, 2017
Read more at The Haberdasher, or at C.S.E. Cooney's website, where "The Goblin's Abettor" was originally published
Best in Genre, Thriller/Horror, wordhaus' 2016 Trick or Treat Fall Story Contest


Nightworms' reviewer Alex Pearson (@finding_montauk) administers the following SBSB review: "One of the best features of this book is how Carmen just writes. I want to have a conversation with her. The words and the sentences that come out of her mouth are just pure dark poetry... I found myself getting lost in the prose and I really feel it helps this collection stand out from others I have read."
Sara Tantlinger, author of the dark poetry collections LOVE FOR SLAUGHTER and THE DEVIL'S DREAMLAND, provides her thoughts on Something Borrowed, Something Blood-Soaked: "The protagonists of these stories go through some dark, torturous journeys, and I really appreciated the rawness in which Carmen handles these tales. A solid collection through and through!"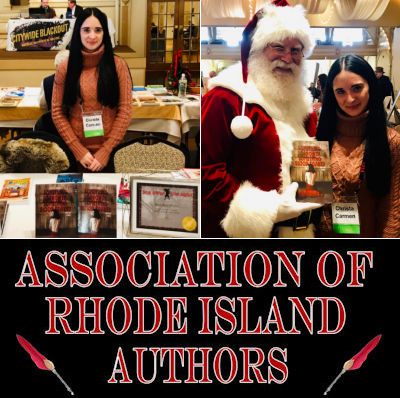 December 1, 2018
Rhode Island Author Expo 2018
10 AM - 4 PM
Rhodes on the Pawtuxet Cranston, RI
Directions