Nightworms' reviewer Alex Pearson (@finding_montauk) administers the following SBSB review: "One of the best features of this book is how Carmen just writes. I want to have a conversation with her. The words and the sentences that come out of her mouth are just pure dark poetry... I found myself getting lost in the prose and I really feel it helps this collection stand out from others I have read."
Sara Tantlinger, author of the dark poetry collections LOVE FOR SLAUGHTER and THE DEVIL'S DREAMLAND, provides her thoughts on Something Borrowed, Something Blood-Soaked: "The protagonists of these stories go through some dark, torturous journeys, and I really appreciated the rawness in which Carmen handles these tales. A solid collection through and through!"






Howling Libraries' Reviews says of Something Borrowed, Something Blood-Soaked: "There are definitely a few gems in the collection, such as: Red Room...All Souls of Eve...Lady of the Flies. All in all, if you're looking for a unique and vaguely feminist collection of indie horror, go ahead and give this one a try. I'm definitely willing to check out more of this author's work in the future..."
The Horror Club reviews Something Borrowed, Something Blood-Soaked: "Carmen offers us thirteen different stories, ranging from Supernatural to Occult to Bizzaro, each with unique ideas interrogated into them. It's clear that Carmen backs her ideas, and has a certain writing style that allows her to get the best out of them."
Down in a Book reviews Something Borrowed, Something Blood-Soaked: "I kept thinking that ["Souls, Dark and Deep"] should be turned into a movie. I'd totally watch this in the dark and try not to be creeped out by it. So, so creative. I had fun imagining the magic going on there. "Lady of the Flies" is a story where my heart broke for the main character over how she's treated, then became delightfully horrified in what she does in revenge. This one would be a cool flick, too."
Michael Upstill gives Something Borrowed, Something Blood-Soaked a five-star review: "...dark, witty, quirky...clearly aimed at inviting the reader to completely immerse in the offered slices of the lives of her relatable and sometimes all too familiar characters."
Of Something Borrowed, Something Blood-Soaked, the Scary Reviews says: "From the initial story, Thirsty Creatures, Christa Carmen put a cool twist on a classic Greek mythology tale, and turned it upside-down. The story was a fun read."
The Kickstarter campaign for Chilling Tales for Dark Nights raised $18,045 via 326 backers, an amount that resulted in two stretch goals reached and the project being funded at 360%! The first installment of the illustrated horror anthology will be released in September, just in time for Halloween!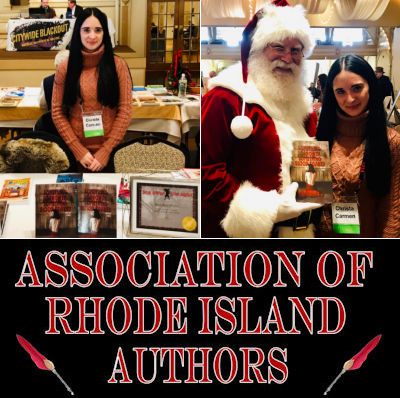 December 1, 2018
Rhode Island Author Expo 2018
10 AM - 4 PM
Rhodes on the Pawtuxet Cranston, RI
Directions